6th Chinese-German Symposium on Immunology & 3rd Joint Conference of Sino-German Cooperation Group of Tumor Immunology
The 6th Chinese-German Symposium on Immunology & the 3rd Joint Conference of Sino-German Cooperation Group of Tumor Immunology sponsored by the Sino-German Center was held from November 16 to November 19 in Hangzhou, China. The symposium was jointly organized by Chinese Society for Immunology (CSI) and German Society for Immunology (DGFI), and co-chaired by Professor Zhigang Tian and Professor Xuetao Cao, the President and the Secretary General of CSI from China, and Professor Dieter Kabelitz and Professor Stefan Meuer, two former Presidents of DGFI from Germany.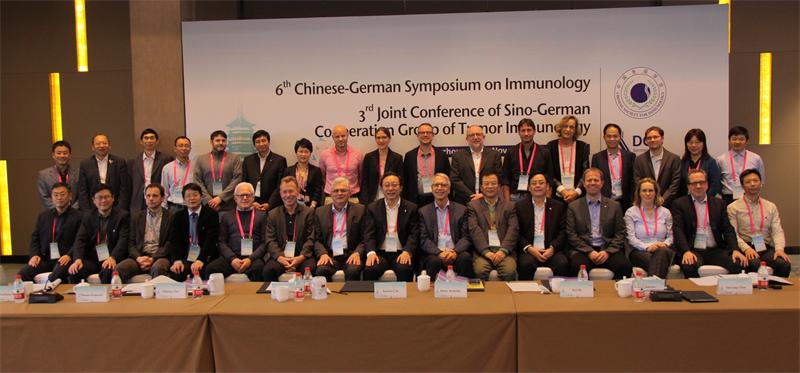 This series of symposium was initiated 7 years ago by CSI and DGFI to provide a venue for top level scientific exchange in immunology and to promote interaction, collaboration and friendship between immunologists, especially for the young generation, from the two countries. The joint symposium has been successfully held for six times with meeting place alternated in Germany and China of each year.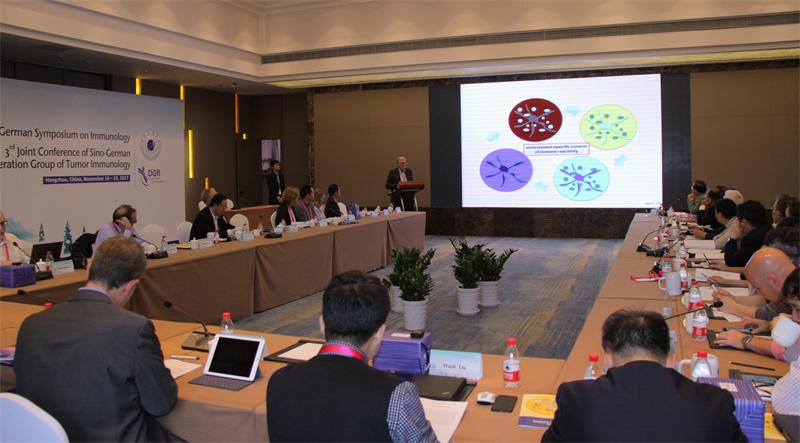 In the opening ceremony, Professor Zhigang Tian and Professor Xuetao Cao from CSI, and Professor Dieter Kabelitz and Professor Stefan Meuer from DGFI conveyed very wonderful words and remarks reflecting the long-time friendship and cooperation between the two societies both on the organizational and personal levels and perspectives of even greater new development in years to come.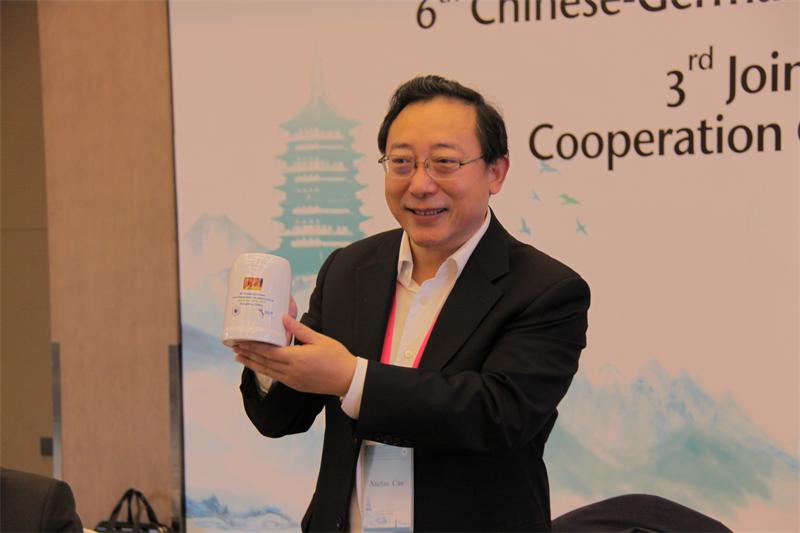 15 immunologists representing CSI participated the meeting, including Prof. Xuetao Cao, Prof. Wei He, Prof. Bo Huang, and Prof Xiaofeng Qin from Chinese Academy of Medical Sciences, Prof. Zhigang Tian from University of Science and Technology of China, Prof. Yuzhang Wu from Third Military Medical University, Prof. Liwei Lu, from the University of Hong Kong, Prof. Zhengfan Jiang from Peking University, Prof. Wanli Liu from Tsinghua University, Prof. Taoyong Chen from Second Military Medical University, Prof. Youcun Qian from Chinese Academy of Sciences, Prof. Zhinan Yin from Jinan University, Prof. Yiwei Chu from Fudan University, and Prof. Linrong LU and Prof. Qingqing Wang from Zhejiang University. On the DGFI side, a delegation of 16 scientists were selected to attend this year's symposium, including Prof. Stefan Meuer and Dr. Suzzane Roth from University of Heidelberg, Prof. Dieter Kabelitz, Prof. Ottmar Janssen and Dr. Marcus Lettau from University of Kiel, Prof. Jurgen Wienands and Prof. Holger Reichardt from University of Goetingen, Prof. Reinhold Schmidt from University of Hannover, Prof. Carsten Watzl from Leibniz Research Center at Dortmund, Prof. Hnas-Martin Jaeck and Prof. Diana Dudziak from University Hospital Erlangen, Prof. Thomas Kamradt from University of Jena, Prof. Friederike Berberich-Siebelt from University of Wuerzburg, Prof. Vigo Heissmeyer from University of Munich, Dr. Jan Kroenke from University Hospital Ulm, Prof. Tobia Bopp from University of Mainz.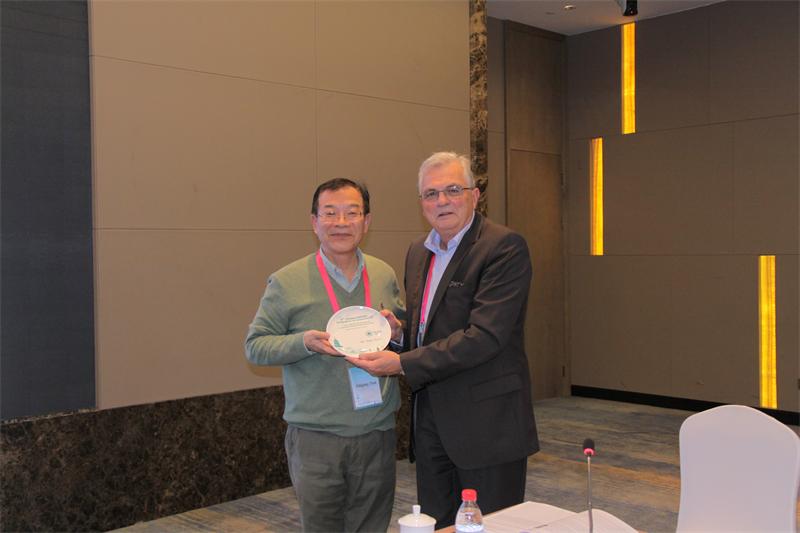 The major theme of this year's symposium centers on inflammation, immune regulation and tumor immunity. The scientific program covered broad and vibrant research areas in innate immunity, regulation of T cell signaling, B cell function and disease intervention, NK cell and immune homeostasis, gamma/delta T cells and cancer immunotherapy, inflammation and cancer development, autoimmune disorder and novel immune-based therapeutics, including two days of full-fledged plenary talks and one intense day of focused discussion group presentations made by 30 scientists from both countries. In each session, the presentations brought up in depth discussion regarding to the key scientific questions of the field, new discoveries and technology advances. The presentations showcased the great progress made in the past year, both in basic research addressing the fundamental immunological questions and in clinical investigation leading to the development of novel approaches for the treatment and intervention of immune-related diseases. The strength and potential of immunological research in China and Germany were well exhibited, especially among those younger generation of investigators. In many areas, people from both sides have identified significant matches for partnership and establishing very promising collaborations.
As the tradition, apart from the intense and exciting scientific programs, the host and local organization committee have arranged several lovely and delightful social and cultural events featuring the regional history, natural beauty, arts and lifestyle of Hangzhou. The guests thoroughly enjoyed with the tours and visits, and were also very impressed by the great changes and the new appearance of the city crafted for the recent G20 summit held in 2016. The pleasant social activities and warm hospitality graciously planned by the host provided a nice atmosphere promoting more extensive interaction and further development of friendship among the German and Chinese immunologists during the three-day symposium.
Again the 6th Symposium is another exemplification of the longstanding cooperation and partnership of CSI and DGFI. In the closing ceremony, the co-chairs from both China and Germany expressed their great appreciation and satisfaction to each other for the joint efforts in putting together the excellent program of the 6th Symposium. All the attendees also thanked the Sino-German Center for the funding support and encouragement for high-level scientific exchange between immunologists of the two countries. As huge emphasis has been placed on better understanding how the immune system helps the body to fight against diseases and maintain human health in recent years, immunological research now permeates into almost every corners of modern life sciences and medicine, and the community has expanded tremendously, especially in China. No doubt for everybody who attended this exciting meeting that there are vast opportunities lying ahead to further expand and deepen the international cooperation of Sino-German immunology societies which play even bigger role on the world stage in the coming years.